How it Works
Our affiliate program is very simple. You send us a referral that signs-up, we pay you $100. No hoops to jump through, no crazy minimums, just referral $ when you find us a new and paying customer.
HOW IT WORKS: Place a link along with one of our banners on your website and when someone clicks on that link and becomes our customer, you earn $100 (US funds only). We give you a unique affiliate link so we know when a visitor to our site was because of your referral. We track everything from that point forward. As soon as that referral signs-up and pays for service we send you $100.
HOW YOU JOIN AS AN AFFILIATE: There is no fancy paperwork, just a simple form below and you are "on the team".
WHAT DO WE DO? We help any company that sends email campaigns (marketing, sales, newsletters, etc.) find out why their email is not delivering at peak efficiency. Almost every business in the USA fits that profile so the potential for you is huge.
HOW WE DO IT: Our team has been in the postmaster world with ISP's and online services for 25+ years each. Many worked at big name ISPs and some were postmasters at the top online services today (some still are postmasters. They have access to services like the "I.R.R." that only administrators can access and adjust as needed. the IRR is something all major online services use to determine what emails should be blocked. So we have "the golden key" to get into every major online reputation and blocking system on Earth. Companies that sign-up and become customers of ours quickly see an improvement in email deliverability. That's because we know this industry like the back of our hand.
FINE PRINT: Affiliates receive payment only after the customer signs-up and pays for the service. We do not pre-pay for referrals, they must sign-up and pay to have their account opened first. The affiliate will be paid within 24 hours after we receive payment from our new customer (your referral). Sorry, there are no exceptions to this rule. We track the referral via a session variable as well as IP address. We note the event when they first appear on our website so even if their session data is lost, their IP address is kept so we can always trace-back a referral.
You may place any of these images on your website. You can download the image, or refer to it here.
Size: 728x90
Link: https://www.listworker.com/images/lw_banner_728x90.png

Size: 320x50
Link: https://www.listworker.com/images/lw_banner_320x50.png

Size: 300x250
Link: https://www.listworker.com/images/lw_banner_300x250.png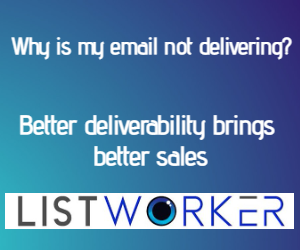 Size: 300x600
Link: https://www.listworker.com/images/lw_banner_300x600.png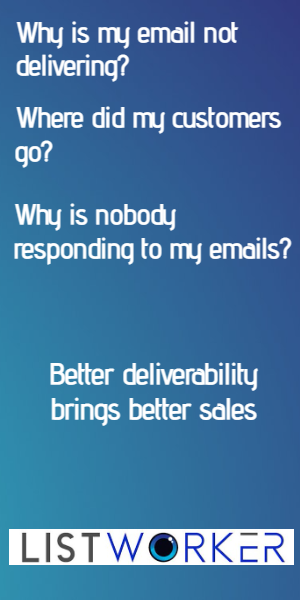 Size: Skyscraper
Link: https://www.listworker.com/images/lw_banner_skyscraper.jpeg